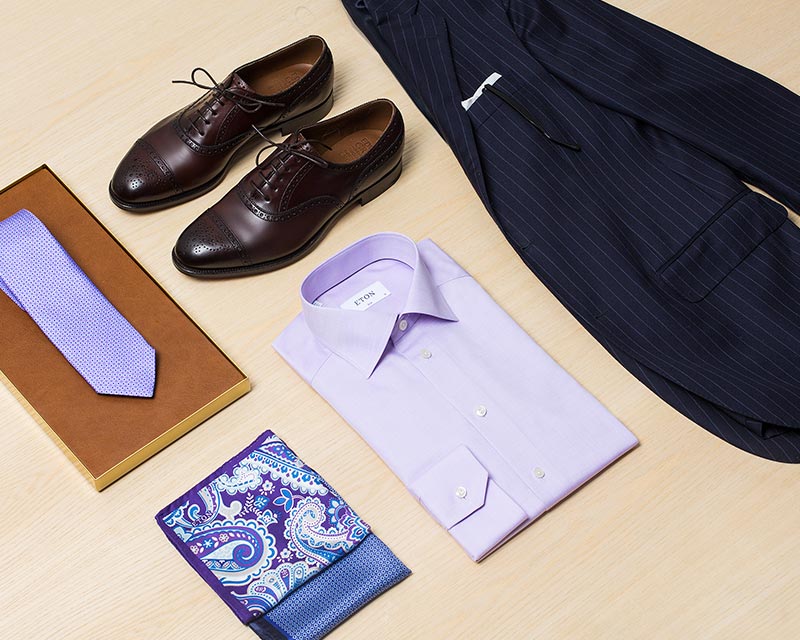 Business Professional
Also known as the boardroom attire, business formal represents the highest level of professional dressing. But fear not. What many feel are the limitations of office wear are actually strengths. You just need to know the basics. One, focus on quality materials. Whether you're stepping off of a plane or your morning train ride, having a suit made from the right cloth ensures it will resist creases and wrinkles, so that you always arrive in style. Two, it's all about the tailoring – a slick fusion of construction expertise and individuality with a contemporary feel. Think a single-breasted style with peak lapels, buttoned cuffs and a back vent for comfort. Three, don't reinvent the color wheel. While we're not demanding that you stick to the staples that are black, charcoal and navy, we would encourage you to experiment and dabble with the entire color palette. Understand what shades go together and why, and spruce up those muted tones with a creative accessory. Simple, right?
Business Formal
How to give your office wear a promotion.
A step down from business formal, business professional clothing is still neat, conservative and traditional, if a little more loose when it comes to color and pattern. In fact, modern office wear has become a pretty much individual affair, with style-conscious gents now likely to dress in a manner that reflects their profession – and personality. Fusing tradition with a touch of contemporary styling, the final result is sleek and smart, without appearing overdressed. Sure, you want to look like you mean business. However, certain sartorial rules are meant to be broken. Ever tried matching your tie to your jacket? This clean, minimalist look is designed to shine the spotlight on a bold suit, a gutsy shirt, or – why not – both. How about skipping the tie – perhaps perceived as a little stuffy – in favor of fine-gauge knitwear? Combining comfort and style, a cashmere sweater is a superb example that you can dress up or down as your diary dictates. Last but not least, we'd suggest splurging on a timeless briefcase. After all, in a room full of men in dark suits and white shirts, the bag a guy carries can make a big difference.
Smart Casual
The foolproof formula for semi-formal dressing.
Located somewhere in between a pair of sweatpants and a suit – smart-casual is a matrimony of antonyms that can be particularly tricky to get right. Smart enough to turn up to work in, yet stylish enough to wear out for dinner, this dress code can present understandable dilemmas for the modern man. The solution? Go smarter than you think might be strictly necessary – especially if you are trying to make an impression. Remember, it is far more embarrassing to be under-dressed than over. Start with a softly tailored blazer, white shirt and neat jeans. Then slip into a pair of leather loafers or minimalist sneakers. Smart but not formal, relaxed but not casual, this look offers the perfect balance between form and function. Ready to take your style game to the next level? The subtle play on tones and textures creates a contrast that adds interest and a hint of personality to any outfit. When it comes to a smart-casual look, it's these little details that leave a lasting impression.